Ally1 Dealing with Water Damage in St. George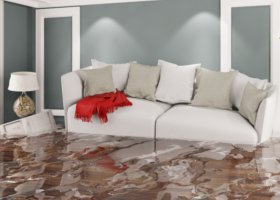 Did you know according to statistics that right behind fire and smoke damage, water damage is the second most severe of all property damage claims. In the event that a pipe breaks or cracks, a storm hits or an old worn down roof leaks, even situations like a clogged toilet,  if not taken care of right away there can be severe water damage and possibly even health issues depending on the source of the water.
Water Damage Can Lead To Mold
Not only can water damage ruin the walls and foundations of a house or building, it can damage carpets, flooring, baseboards, and may even cause mold and disease causing organisms.
It is unquestionably necessary to have our professionals at Ally1 Disaster Solutions to come and repair the water damage right away. We will give you the best solution to your water damage problem. With our trained professionals, we have the technology and equipment to save you time and money. We have state-of-the-art technology including TES, the world's fastest drying system. We work fast and diligently to get everything back to pre-damage condition.
24 hour Emergency Water Damage Services
Our professionals work around the clock to be able to attend to any disasters that may strike. We know that disaster is always cooking up something and can strike at any moment. This is why we are always at the ready to help you in your time of need.
We urge you to contact us at Ally1 Disaster Solutions in St. George for any of your water damage needs. With over 20 years of experience, we are one of the most experienced and trusted water damage companies in Southern Utah. Also remember that we work directly with all insurance companies so that we can try and ease the stress of this calamity.