The "Do's" and "Don'ts" of Grilling in St. George Heat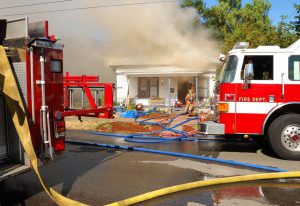 As the weather gets warmer, we start itching to spend every minute we can outside. After the never-ending winter months, it's finally time to trade the oven for the grill and the snow for the sprinklers. And while you brush off your dusty grill and search the Internet for popular barbecue recipes, don't forget to take basic safety precautions. Although outdoor barbecues are a great social activity, what used to be fun and relaxing can quickly turn into an uncontrollable fire.
Each year, approximately 7,000 Americans are injured in household fires that originated with a grill. St. George contributes to this statistic. With the average high summer temperatures reaching between 86 and 102 degrees, St. George is an especially susceptible area for fire damage. Take a look at these do's and don't to prevent fire damage from grilling in your St. George home.
Do:
Check for gas leaks: To ensure grilling safety, periodically check for gas leaks. Make a solution of half liquid dish soap and half water. Rub it around the hoses and connections. Then, with the grill lid open, turn the gas on. If you see bubbles, that's a good indicator that the connection needs to be tightened or there are small holes in the hose.
Keep a spray bottle near: All you need for this is a cheap spray bottle from a drug store. If you ever have a small flare-up, just use the water spray to quickly extinguish it. Bonus: The water won't ruin your food!
Be prepared: If you don't have one already, buy a small fire extinguisher and keep it with the grill at all times. Then, you won't need to worry about grabbing a fire extinguisher from inside every time you grill.
Understand the dangers of lighter fluid: Eighty percent of grill fires are caused by cause gas-fueled grills. Read the owner's manual before use and make sure you are knowledgeable about its risks.
Don't:
Turn on the gas with a closed lid:  Never do this under any circumstance. It will cause gas to build up within the grill and create a sudden explosion when opened. Aside from singing your eyebrows a little, this can be the cause of severe injury.
Leave the grill unattended: This is fairly obvious, but it's often abused.
Since fires double in size every minute, severe fire damage can occur. Ask a family member or friend to run inside to grab more food or supplies. It's not worth leaving a young child or pet in danger of opening the lid or accidentally running into the grill.
Drink while grilling: While many people will choose to have a couple drinks this summer, keep in mind that alcohol slows reaction time. Either designate someone to grill all of the food before drinking, or bring out the drinks after the grill is off and cool.
Put the grill near flammable items:  Keep your grill at least 3 feet away from upholstery, siding, flowers, or other flammable materials. Not only will this precaution prevent sudden fires, but it will prevent your siding and other nearby objects from melting under the heat.
Leave the grill on: After the food has been grilled and you're settling down to eat your mouth-watering steak, steer clear from fire damage by making sure the grill is completely turned off before you dig in. It may be tempting to leave the grill on in case someone decides they want another hot dog, but turning the grill off every time can give you peace of mind. This way, you'll never have to say the words, "Oh no! I forgot about the grill!"
But… what if?
Whether your St. George home is ravaged by a grill fire or a regular house fire in these sweltering summer months, don't forget to call Ally1 Disaster Solutions in St. George, Utah. Cleaning up from any fire can be a headache. Restore your property as quickly as possible with the help of our team. If you are in need or our services, give us a call today!