Fire & Smoke Restoration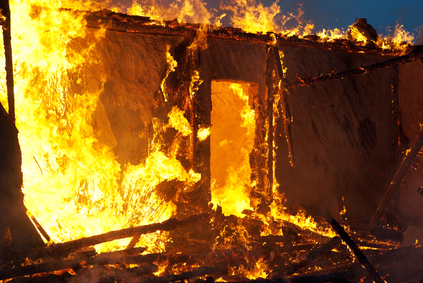 A fire can strike at any time, not only do the flames cause significant damage but there is also smoke and soot to consider. It is easy to see the damage that flames have caused but not as easy to see the damage the smoke may have caused. Smoke is caustic and will continue to cause damage as long as it's not taken care of.
DIY, or do-it-yourself smoke damage removal from house fires is not something any professional would recommend, not only because it can be difficult to completely remove smoke residue without the proper equipment, but because smoke residue could cause some serious health issues if the proper safety precautions are not met. The thick plumes of smoke that a fire produces spread a caustic brew of chemicals on everything it touches. This weakens your structure, damaging its contents and creating a health risk for the people in it.
Don't let smoke damage cause any more harm than a fire has already inflicted on your home. It's important to contact a professional restoration company, like Ally1 to perform fire and smoke damage restoration to make sure your home is completely safe. Time is of the essence so you will want to contact the fire damage cleanup experts as soon as possible. Get in touch with a friendly and professional restoration team today and be on your way to the full and proper restoration of your property.
Steps to the restoration process.
Step1: Emergency Contact
Step 2: Inspection and Fire Damage Assessment
Step 3: Immediate Board-Up and Roof Tarp Service cover all openings that allow easy access to your home, so the weather stays outside, not causing more damage.
Step 4: Water Removal and Drying a wet/dry vac is helpful when removing unwanted water. Remove all items from flooring and wood furniture, this keeps the dyes from objects transferring to the floor or furnishing.
Step 5: Removal of Smoke and Soot from All Surfaces you can and cannot easily see.
Step 6: Cleaning and Repair
Step 7: Restoration can be as easy as repainting a wall or a whole room. Or as in-depth as rebuilding part of the structure or foundation.
Things you can do to start the restoration process.
Limit movement in the home to prevent soot, particles from being embedded into upholstery and carpets.
Keep hands clean so as not to further soil upholstery, walls, and woodwork.
Place clean towels or old linens on rugs, upholstery, and carpet traffic areas.
If the electricity is off, empty the freezer and refrigerator and prop the doors open, clean and protect chrome with a light coating of petroleum jelly or oil.
Don't be afraid to ask the fire damage cleanup professionals any questions to make sure you fully understand the cleaning and restoration process. Any reputable restoration company will help you every step of the way, from beginning to end. If you have any questions or concerns about fire and smoke damage restoration in Southern Utah contact the team of experts at Ally1. We are always available to help with your fire and smoke damage cleanup needs!