Preparing Your Home for Spring Storms
Spring has arrived, and for Cedar City residents that means unsettled weather with the potential for dangerous and damaging storms. Take some time before the storm hits to ensure that your home is protected and that you are prepared in the event of a disaster.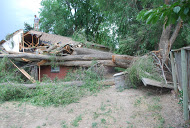 Many people find themselves unprepared for a disaster, and severe storms in Cedar City can occur with very little notice. We hope this information helps Ally1 Disaster Solutions customer always put your safety and the safety of your family first. Homes can be repaired and household goods can be replaced. Follow these guidelines to reduce damage to your home during a severe storm, and to protect your family during and after the storm.
Inspect Exterior of Home and Clear Gutters
An important and sometimes overlooked step that can significantly reduce your risk of water damage is to clean debris from gutters and to ensure downspouts are directing water away from the foundation of your home. Clear out any clogged gutters, and also check that storm drains are free of trash and debris to allow water to drain from your property.
Make sure the exterior of your is in good condition—check for cracks in the foundation, that window and door seals are working properly, your roof is in good condition and not missing any shingles, and that siding is free of damage. Make any necessary repairs.
Maintain Trees and Trim Branches
Believe it or not, just about any tree has the potential to topple over under the right conditions, potentially damaging your home or property. By properly maintaining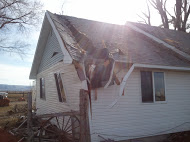 your trees, they will be healthier, look nicer and have a reduced risk of falling.
Trim away any dead, broken or damaged branches and limbs regularly. Remove branches that are overhanging your home to prevent rodents from having easy access to your roof and to prevent damage to your roof should they fall in a severe storm. Always clear away any debris after trimming trees.
 Create an Emergency Supply Kit
A severe storm can knock out power and other utilities for an undetermined amount of time. Preparing an emergency kit ahead of time can ensure you have adequate supplies and necessary equipment in the event of an emergency.
An emergency kit should include food and water for three days, a radio, flashlight, first aid kit, change of clothing, and bedding. Additional items to consider include prescription medications, pet food, infant formula, trash bags, and any tools necessary to turn off damaged utilities after the storm. Include anything you need on a daily basis, as well as emergency supplies.
If you live in an area at risk of severe weather, you may also want to include copies of insurance policies, identification and bank records. You will also want to have some emergency cash as well. Evaluate the contents of your emergency kit every few months, and consider removing or adding items as needed.
Tips for Cleanup After a Cedar City Storm
Severe storms can leave behind debris and dangerous conditions. Always use caution and practice common sense after a severe storm. If your neighborhood has been damaged, check to make sure that your neighbors are safe. Keep an eye out for downed power lines, debris, and other hazards. If trees have fallen or large branches have broken, make sure no one was injured.
If your home is damaged during a storm and repairs are beyond your abilities, don't wait to enlist the help of Ally1 Disaster Solutions. Ally1 restoration professionals will be able to assess the storm damage and will take immediate steps to protect your property from additional damage. In the event of severe weather, it is best to contact Ally1 Restoration Solutions as soon as possible for best availability and to prevent additional damage to your home.