Restore Your Cedar City Home After Sewage Damage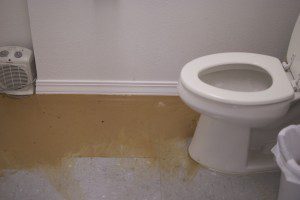 Sewage cleanup can be a daunting job, it is even more difficult than regular flood damage cleanup. If your home has suffered sewage contamination, sewage cleanup should be left to an Allyt1 Disaster Solutions professional who is specially trained to handle and treat sewage damage in the Cedar City area.
Sewage cleanup is much more complicated due to the various contaminants that are found in sewage that can cause illness and disease. So not only do you need to make sure everything is dry, but everything needs to be cleaned and decontaminated before your home will be safe for you and your family. Sewage can also be harmful to the environment, and should always be addressed immediately.
If your home has suffered sewage damage, the number one rule is to avoid any direct contact with the sewage or contaminated items. Avoid entering the area, and if you must handle items that came into contact with sewage you should wear the necessary protective equipment and avoid risking cross-contamination with areas that are unaffected.
What is Sewage Damage?
Sewage damage occurs when raw sewage reverses and re-enters your home through drains, toilets, or sinks. Sewage damage can occur if your sewer line is blocked, if flooding has overwhelmed the sewage drainage system and forced sewage back into your home, or if your sewer line breaks.
Sewage damage is considered category 3 contamination due to the high level of contaminants present in the sewage, requiring extensive cleanup and additional steps to ensure all the harmful elements are removed or killed.
What are the Health Risks from Sewage Damage?
Sewage can carry thousands of pathogens and parasites that can cause serious illness, infections and disease. Bacteria often found in sewage include E. coli and salmonella, as well as bacteria that can affect the nervous system. Parasites present may include giardia, roundworm and tapeworm, and potential viruses are adenoviruses, HPV, and rotavirus.
Anyone who comes into contact with sewage is at risk of contracting illness or infection from bacteria, viruses, or parasites. Those who have weak immune systems, women who are pregnant, and young children or elderly adults are at greater risk of becoming ill, and should avoid any exposure to sewage.
Why Do I Need a Professional to Perform Sewage Cleanup?
Sewage cleanup is a job no homeowner should do or even attempt. Sewage cleanup is a multi-step process that includes the extraction of the sewage, drying of the area, and odor control followed by thorough cleaning and disinfecting. Not only will it be time-consuming to attempt sewage cleanup on your own, but it can also end up being more costly after factoring in equipment rental and the purchase of disinfectants and cleaning tools.
Hiring a sewage cleanup professional, like Ally 1 Disaster Solutions, is the only way to ensure your home will be safe after sewage damage. An Ally1 professional will have access to the proper tools and chemicals needed for sewage cleanup, and can ensure that any mold growth resulting from the sewage damage will be prevented.  It is worth it, even just for peace of mind after cleanup.
Effective sewage cleanup requires a quick response, and you should not hesitate to call a sewage cleanup professional. Emergency restoration companies will respond anytime, day or night. The sooner a sewage cleanup professional can get to work, the lesser the damage that will occur to your home. The longer sewage is allowed to sit and penetrate building materials, the more extensive and expensive cleanup will be. Call Ally1 Disaster Solutions if you have any additional questions about sewage damage restoration in the Cedar City area.