Water Damage Caused By Washing Machines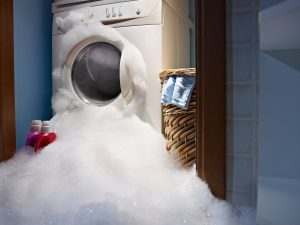 Your laundry room is the place where your belongings get clean, not a place that you expect a mess. But, washing machines hold a lot of water and have many hoses and other parts that keep the water inside to do their job. However, water can escape from your washing machine and create a major water disaster in your laundry room, leaving the laundry to pile up and an even bigger mess for water cleanup professionals to have to dry out and repair. If you experience water damage from a washing machine malfunction or from any other appliance in your home, be sure to contact the professional water cleanup crew at Ally 1 Disaster Solutions in Beaver, Utah.
Water cleanup experts are trained to assess water damage and make sure it is cleaned up properly to minimize damage. It is crucial that the professionals are contacted as soon as possible!. Time is of the utmost importance when it comes to water damage and waiting can actually cause more problems for you. After you contact the professionals, follow our comprehensive list of other steps that you can take in order to help speed up the cleanup process.
Check Your Surroundings –  Even though the water damage happened in your laundry room, water may have spread to other areas. Take a quick look around to see if you can see any water damage anywhere else. If you do, try your best to remove items in its path so that they can stay dry and not get damaged. Remove any clothing or items from your laundry room too. This can help prevent the risk of mold on clothes and other damage
Check Nearby Electrical Circuits – Electricity and water DO NOT go together. If you can do it safely, unplug any appliances and try to remove them from the water area. If you are unsure, wait for the professionals to arrive. Professionals are trained to prioritize their own safety and the safety of anyone around them, so if you aren't sure what to do, stay out of the wet areas and wait for the experts.
Check Other Rooms – If your laundry room is not on the bottom floor of your home, check the rooms underneath it to see if the water has started to leak down below. Look for cracks or sags in your ceiling. That would be a good indication that perhaps there is water damage there. If there are puddles or leaks, place a bucket underneath to keep the water from spreading further.
Stay Safe – nothing is more important than safety. If you feel like the water cleanup project is too big for you, wait for the professionals to come and help. Keep young children away from the contaminated area, and maybe leave the rooms nearby just to ensure that everyone is safe! 
Following these steps can help you minimize water damage caused by a malfunctioning washing machine. To prevent water damage, be sure to have your washing machine professionally maintained and check for cracks or wear in the hoses often. Anytime water damage becomes an issue for you, contact the professional water cleanup crew at Ally 1 Disaster Solutions in Beaver, Utah.