Questions About Sewage Cleanup in Hurricane, Utah?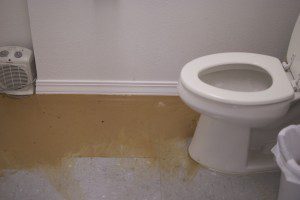 Sewage damage is one of things that no one ever wants to have to deal with. It is disgusting, potentially dangerous to your health, and requires extensive cleaning to ensure your Hurricane, Utah, property is throughly cleaned and safe for you and your family. Here are some common questions we get about sewage cleanup, and some things you should know before you attempt to perform sewage cleanup yourself.
What is Sewage Damage?
Sewage damage is exactly that – raw sewage that enters your home after a sewage backup. Sewage can also enter your home if severe flooding overwhelms the sewage draining system, or if you have a broken sewer line. The sewage can enter your home through drains, toilets, sinks, or even floodwaters.
Because floodwaters can contain sewage, floodwaters are also considered highly contaminated and potentially harmful to your health. The cleanup of floodwaters should follow the same cleanup procedures as sewage damage.
How Bad Are the Contaminants in Sewage?
Proper sewage cleanup is especially important to ensure that harmful viruses, parasites, and bacteria are removed from your home. Sewage often has thousands of harmful contaminants including E. coli and salmonella, parasites like roundworms or tapeworms, and rotavirus, adenoviruses, and HPV. These things can cause serious illness, infections, and disease, and are especially harmful for those with weakened immune systems including pregnant women, young children, and elderly adults.
Can I Manage Sewage Cleanup Myself?
Many homeowners do not have the proper experience, equipment, or cleaning agents to effectively perform sewage cleanup, and the risks often outweigh the potential reward. Performing sewage cleanup yourself often means there is a greater likelihood of transferring contamination to other areas of the home, or that something gets missed and the viruses, bacteria, or parasites are still present.
Hiring an experienced sewage cleanup professional in Hurricane is the best way to ensure your home is safe and clean, free of any sewage residues. As with any type of water damage, the sooner sewage cleanup can begin, the lesser the damages.
Sewage Cleanup Hurricane, Utah
Ally1 Disaster Solutions provides comprehensive sewage cleanup services in Hurricane, Utah and throughout Southern Utah. Our team is available 24/7 to begin sewage cleanup as soon as possible to limit the damages and to get you back in your home and back to normal as soon as possible. Contact us today.