When You've Been Hit By A Storm In Cedar City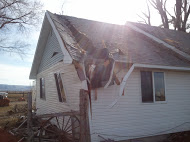 Snow, hail and even wind can leave behind a terrible mess, often damaging your home or property and creating quite the headache. After a storm, it's always a good idea to check the exterior of your home or property for damage. Wind alone can cause enough damage to warrant repair. Getting roof repairs completed as soon as possible will minimize any water damage to the home's interior, saving both aggravation and money.
Spotting Damage
It is not always noticeable but branches can give your roof a beating and easily tear shingles from your roof. When you put wind and hail together, you have a recipe for disaster. The most common types of storm damage are damage to your siding, roof and windows. Stay safe and contact a professional roofer. Avoid going on the roof to check damage yourself.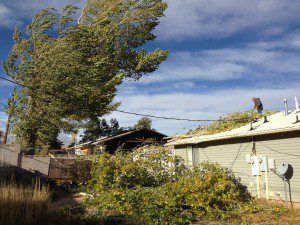 Things To Check After A Storm:
Check for resulting roof and siding damage if you have experienced a hailstorm. Hail damage is typically in the form of holes in vinyl siding and dents in aluminum siding. Often the damage occurs to only one side of a home's exterior. This can sometimes leave homeowners with the problem of matching replacement siding to existing siding. Not only is this type of damage ugly, it also leaves your home vulnerable to moisture.
Walk the perimeter of your house and look for signs of storm damage. Check for missing shingles, missing pieces of metal fascia, and metal pieces that may have been displaced from around your chimney. Missing shingles from high winds are very easy to spot. On newer roofs, matching shingles is generally easy, as the existing materials aren't yet likely to show signs of weathering. On older roofs, the material colors are harder to match, as weathering has occurred. However, professionals can still usually match materials closely.
Check your gutter system for damage. Gutter systems often suffer during major storms, and to keep water properly draining from the home's foundation, they must be repaired properly.
Inspect your attic for leaks or water damage. If any water stains appear on your ceiling or walls, you may need to repair or even replace your roof.
Storms are unpredictable but storm damage repair doesn't have to be. Ally 1 Disaster Solutions is here for you. We are the professionals you want to call when it comes to storm damage repair. If your house has suffered due to a storm, we look forward to helping you get your home back to looking beautiful!