Rebound from Fire Damage in St. George with these 4 Steps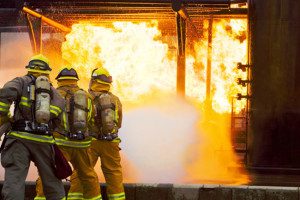 When a sudden fire sweeps your St. George home or business, the results can be traumatic. You may lose important documents, pictures, furniture, or toys. The entire building can be destroyed. Fortunately, there are a few key steps to take that can ensure a quick rebound from fire damage in St. George.
Confirm Your Immediate Safety
For successful fire damage repair, don't wipe down walls, wood trim, furniture, or any other absorbent surface.
Hold off on eating of drinking any food product that was exposed to extreme heat.
Be sure not to run your heater or air conditioning as these may have been severely damaged during the fire.
Stay away from electrical devices such as computers, appliances, stereos, or televisions until a professional informs you they are safe.
After a fire, your home can be dangerous. Be practical and careful. Always remember to listen to authorities as they assist you in keeping you and your family safe.
Contact Providers
After you secure your safety, contact a relief center, like the Salvation Army or Red Cross. They can help you secure temporary housing, food, clothing, blankets, baby formula, and other basic needs you will have. You will also need to notify your utility company, the post office, your employer, and of course, your friends and family.
Address Smoke Damage
Many fire victims unknowingly stop at this point. They think all of their bases are covered. But after these steps have been taken, you will likely have the problem of residual smoke in your home or business. The smoke released from any type of fire is a combination of particles produced by materials containing carbon that haven't burned completely. All smoke is made up of carbon monoxide, carbon dioxide, and soot. After a fire, smoke can hide in books, toys, your piano, dishes, and clothing. The smoke produced after a fire can stick around indefinitely. It doesn't take long to realize that even a few minutes of smoke exposure can cause years of health problems. Young children, infants, and the elderly are especially prone to prolonged respiratory conditions. Not only can smoke cause health problems, it's just plain annoying!
That's why calling a fire damage cleanup and smoke damage removal professional is strongly recommended and necessary. A typical cleaning routine won't do the trick. Smoke damage cleanup requires unique tools and techniques to thoroughly clean the affected spaces. Our professional team at Ally 1 deep cleans all hard surfaces in your home. We will meticulously scrub your floors, cabinets, and walls to get rid of the dangerous smoke particles. We will also take care to sanitize and dry your HVAC (heating, ventilation, air conditioning) and crawl spaces to decontaminate your home.
After contacting a professional fire damage cleanup service like Ally 1, you will be well on your way to recovering from a fire. Despite common sense efforts to prevent fires, this stressful event needs proper handling when it happens. We will carefully handle your personal belongings to provide the service you need to bounce back from the fire. We are committed to providing excellent service while restoring your property back to pre-fire condition. Give us a call today!