St. George Fire Damage Restoration – Christmas Tree Risks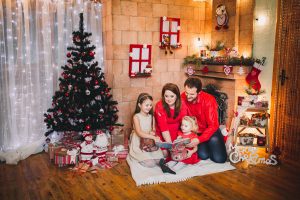 Between 2015 and 2019, fire departments across the United States responded to an average of 160 house fires each year that started with Christmas trees. As a result, fire damage from these fires resulted in $10 million in property damage each year. We know the Holidays are busy and, let's just call it like it is, a bit chaotic, and throwing in fire damage from a Christmas tree is just too much. If you have a real tree this year, then please be sure to take the time and necessary precautions to ensure your home and your family are safe from fire risks.
About 25% of Christmas tree fires result from electrical problems or heat sources placed too close to the tree. Following these steps can help reduce the risk of a fire when you have a real Christmas tree:
Check lights before you string them on the tree. Plug them in and be sure that the cords are not frayed and all lights turn on. If cords are frayed, cracked, or damaged in any other way, do not use them.

Read the box to be sure that you do not exceed the suggested number of light strands that can be connected to each other. Connecting too many strands together can cause surges and shortages in the line, which can result in sparks or excess heat. 

Plugin extension cords before using them and be sure that they do not heat up. IT is common for cords to get warm, especially older ones. If cords feel warm to the touch, do not use them.

Do not leave lights plugged in overnight or if leaving the house. 

Be sure to water your tree daily, as long as the tree continues to take in water. A dry tree leads to dry and brittle bristles which make the perfect kindling for a fire and catch fire more easily when exposed to heat. In fact, fire researchers found that a dry Christmas tree can become completely engulfed by fire in less than 10 seconds, whereas well-watered trees do not usually allow a fire to spread beyond one section of burning branches.

Choosing the freshest tree you can find will help extend the lifespan of your tree and keep it from drying out quicker. Since real trees are three times more likely to catch fire than fake trees, it is important to take extra care watering your tree and being diligent with what you put on or near it.

Do not place your tree near the fireplace. Many people love the cozy look of a glowing fire next to the tree, but that is a huge fire risk. It is also important to keep space heaters and other heat sources at least 5-10 feet away from your tree. 
Call Ally 1 Disaster Solutions in St. George if you are in need of any type of fire damage restoration services. Our seasoned technicians can respond quickly and help you get your property back to normal fast. Call us today!